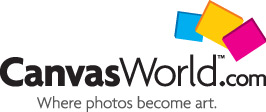 CanvasWorld.com (www.canvasworld.com), a provider of affordable, high-quality canvas pictures, is launching their first iPhone 4S Photo Contest. The iPhoneography contest begins February 21 and ends March 18, 2012.
"We're very excited to offer iPhone 4S camera users across North America the opportunity to have their photos voted on by the public, giving them a chance to win $100, plus a free 16 x 20 print of the image that garners the most votes," said Erik Malkemus, Operations Manager at CanvasWorld.com. "The new iPhone 4S 8 megapixel camera produces images that are ideal for custom canvas prints, and when they're combined with our state-of-the-art design process and hand-built custom canvases, the result is an interior decor product that's perfect for homes and offices or to give as gifts." 
CanvasWorld.com iPhone 4S Photo Contest entrants can begin submitting their photos at www.canvasworld.com/iPhonePhotoContest starting today, February 21, 2012. To encourage voting, contestants will be able to easily share their entry with friends, family and more by simply clicking on their photo's link and sharing it via email, Facebook and Twitter.
The winning iPhone photographer: 
From today until March 18th, 2012, participants can enter for their chance to win by submitting their photos online. The winning photograph will be determined by the number of votes, and the photographer will receive a $100 cash prize, plus a 16 x 20 canvas print of their winning image.
All submitted photos must be taken with an iPhone 4S camera and must be the photographer's original work. Entries will be judged by public voting and the photo with the most votes will be notified via email by March 31st, 2012.
For more contest information please visit www.canvasworld.com/iPhonePhotoContest -- or to view the entire line of canvas print products, visit www.canvasworld.com.
CanvasWorld.com creates custom canvas prints from treasured digital photos. Straight from your computer screen to a cherished spot at home or in the office, CanvasWorld gives users extraordinary canvas masterpieces in just days!