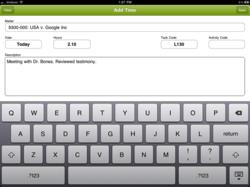 "iTimeKeep is like no other app. Implementation is as simple as it gets, the integration is flawless, and the user interface is extremely easy and intuitive. There is no longer any reason not to enter time in a timely manner," said John Kuntz, Bellefield
Bellefield Systems' iTimeKeep is now available on the iTunes app store. The free to download app easily, seamlessly, and securely integrates with most popular time and accounting systems. Enter time, task and description against a matter in a flash and the time is submitted directly and flawlessly in to your accounting system.
iTimeKeep features:

Enter Time Anytime & Anywhere – enter your time wherever there is a Wi-Fi or 3G connection worldwide
Direct Access To Your Matters – View My Matters, Recent Matters, Current Matters, all at your fingertips just like you were at the office desk
Billing Codes – Billing codes and activity are accessible by drop down menus
No Minimum Number of Users – Inexpensive subscription available for any number of users
Effortless Implementation - Setup and implementation in a few short hours
Fast and Secure – iTimeKeep is as fast or faster than desktop performance and is all tied together with bank-grade security protocols
iTimeKeep utilizes the Bellefield Connect Platform which is an enterprise cloud data system permitting unfettered seamless 2-way communication between Legal Management Systems and mobile devices.
About Bellefield: Bellefield Systems is an innovator in Legal Technology whose fundamental purpose is to create and design state-of-the-art apps and software for the legal market. Our mission is to meet (and exceed!) our clients' needs for improving operational efficiencies by delivering a unique set of tools, which integrate seamlessly with many practice management systems. To learn more please visit http://www.bellefield.com