Have you ever wondered about the top movie tickets booking apps in India? Movies have been a major source of entertainment for the current generation, and now, with the Covid regulations relaxing, people have started to flock to the theatres again. Many try to grab their tickets as fast as they can. This is where ticket booking apps come in handy. Online ticket bookings provide individuals with an easy way to book their seats from the comfort of their homes. 
Additionally, online bookings can also provide special offers on ticket purchases. But where to book the tickets from? Where to get the best deal? Which apps are the most user-friendly? What are the top movie ticket booking apps in India in 2023? 
This article delves into the best movie ticketing apps found in India and their features. 
Top Movie Tickets Booking Apps In India
This article is your one-stop site to check out India's top movie ticket-booking apps. We have conducted thorough research to shortlist the best movie ticketing apps you can use and picked these five below-mentioned platforms. Keep reading to check out our choices of the top movie tickets booking apps in India in 2023. 
1) Paytm: Most Popular Payment App In India
Paytm has been a trusted payment app for thousands of Indian citizens. It launched in 2014 and started the digital payment evolution. It has helped people go cashless and made movie ticket booking effortless, among many other things. 
People can use their Paytm balance to buy tickets or the UPI option to make payments. They also have the advantage of getting exciting cashback offers which are often available on the Paytm app. 
Paytm's app layout is user-friendly, with important information available on the same page. People can check out the seats with a bird's eye view and get clear indications of available seats, prices, and ticket demand. 
Paytm has a "Cancelation Protect" feature that allows buyers to cancel their tickets for a full refund on selected movies. The cancelation amount does not include convenience charges. Buyers pick all the necessary options before making any payments to the app. 
Buyers can book up to ten seats at a time. However, the cancelation must be done two hours before the show time and before receiving the movie booking id and seat details. Additionally, convenience fees are not a part of the refund.  
What We Like About The App:
It can be used for more payments other than movie ticket booking

Simple interface.

"Cancelation Protect" can provide buyers with the option to cancel tickets.
What Can Be Improved:
The app sometimes does include small movie releases.
Also, Read: Best Manga Apps for Android and iPhone In 2023
2) BookMyShow: The Top Show/Movie Booking App In India
BookMyShow has been a go-to ticket booking portal since its launch in 2007. It provides access to movie tickets from digital devices with ease. 
Users can check ticket availability in different cities, their prices, and more. With BookMyShow, buyers get various payment options, including BookMyShow cash, wallets, UPI, debit, and credit cards. 
BookMyShow offers memberships with exclusive perks. It also offers rewards and discounts for regular users. It provides cancelation only on selected movies, with the cancelation threshold varying from 20 minutes to 4 hours before showtime. 
BookMyShow provides partial to full refunds depending from movie to movie. Just like the app mentioned above, BookMyShow charges a convenience fee. The fee is separate from the ticket prices and does not get refunded. 
What We Like About The App:
The app comes with a gift card option.

Offers on food and drink while booking tickets.
App takes payments from BookMyShow cash, UPI, debit, and credit cards.
What Can Be Improved:
Difficult to search for small-scale movies or movies with a limited release
3) TicketNew: A Tamil Nadu Based Company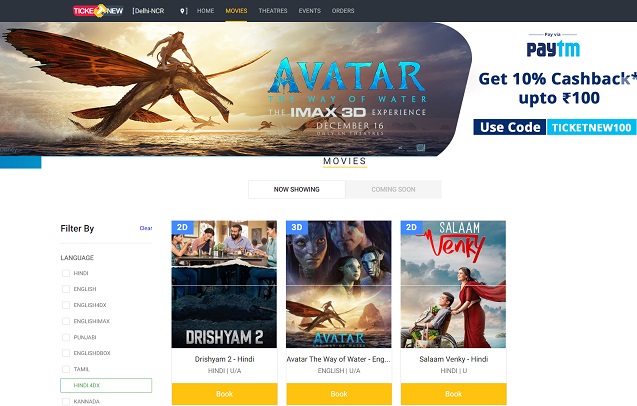 TicketNew was launched in 2007 by SasiRaman Venkatesan, Ravishankar Ramanujalu, and Nammalvar Ramkumar. The Tamil Nadu-based company is an excellent app for booking movie tickets. 
It has a clean and user-friendly interface, with all important information visible on one page. TicketNew has a unique feature that blocks the theatre seats for ten minutes while the buyer makes the payment. It also takes payments from all kinds of wallets, UPI, credit, and debit cards. 
TicketNew often provides discounts and cashback in partnership with different digital wallets. Although the app offers a total of ten movie ticket bookings at a time, buyers can contact 8438584385 to book more seats.
However, the app does not provide cancelation on tickets. 
What We Like About The App:
Locking seats for ten minutes to let buyers complete the payments.

Option to book more than ten seats.
What Can Be Improved:
Feature to cancel tickets for refund or options to change the date of shows
4) INOX: Book Movie Tickets For Inox Multiplexes
INOX app is the ticket booking app for INOX multiplexes. The app is clean with no extra frills and lets users search for movies via two options: location or movie titles. 
All the necessary details about the movies are provided on one page where people can check out the address of the hall, ticket prices, and seating arrangement inside the auditorium.
Buyers can also check the complete breakdown of their ticket prices during checkout. The INOX app provides a 75% refund on cancelation for selected movies until 3 hours before show time, but Black Tier Members of INOX Rewards can avail full refunds. 
The Black Tier Members are the highest tier member of the INOX rewards system, where the brand provides regular buyers with exclusive offers and perks. 
INOX app also gives options for bulk booking that begin with a minimum of 25 tickets. Additionally, it comes with features like gift cards and a merchandise store. Tickets can be bought via all payment methods, including wallets, UPI, gift cards, and credit and debit cards. 
What We Like About The App:
Bulk booking option

Reward system that can prove useful for regular moviegoers
Refund on cancelation of tickets
What Can Be Improved:
Full refund on cancelation instead of partial
Also, Read: Best TikTok Alternatives In India – Top 10 Must Try In 2023!
5) PVR Cinema: Catch All The New Releases On The PVR App
The PVR app is another multiplex-exclusive app where buyers can book PVR tickets for movies. The app has all the basic features of a ticket booking app, which means users can check the tickets' availability, price, and demand. Additionally, they can book snacks to increase their movie-watching experience. 
PVR app provides a 75% refund on ticket cancelation if done before two hours of the show time. Any cancelation between two hours and 20 minutes before the show will result in a 50% refund. 
Buyers can only cancel five times a quarter; more than five cancelations would result in a temporary ban on their profile. PVR app accepts all kinds of online payment options. 
PVR app comes with various loyalty programs that provide different perks, including the Privilege Program, Passport Weekday Pass, and Kotak-PVR Debit Card. Buyers can also get discounts and exclusive offers by participating in these programs. 
Additionally, PVR frequently offers pre-releases for movies that this app can book. The app has a separate section for all running offers and comprises a merchandise store. 
Buyers can also check out upcoming movies on the app. 
What We Like About The App:
Loyalty programs have attractive perks

Separate section for upcoming movies
What Can Be Improved:
Full refund on cancelations 
Select The Right App According To Your Requirement
All of the apps mentioned above are available on both Google Playstore and the iOS app store. The apps provide the same features on both platforms and can be trusted for satisfactory services. 
Customers need to look at their requirements and select the apps accordingly. PayTM can be used as an all-in-one payment app, while BookMyShow and TicketNew have the option to book at any hall and multiplex. Meanwhile, INOX and PVR come with exclusive offers and perks. 
They also come with merchandise stores and other attractions. Hopefully, this guide helped you to find your perfect movie ticket app. 
Appcraver.com(c).