The recent GTA 6 Leaks couldn't have come any sooner, as many fans were desperate for even a glimpse into what the game would actually look like. Just as we were losing all hope of any trailers or even a little teaser, there came the GTA 6 leaks, which many people also confirmed that it really was real.
The early build leaks that we all saw created uncertainty about the game's quality. But, as we all know, the game is still under production, so nothing is permanent, and what we saw was only the game in its early phases.
The gaming industry has agreed that the game will not look like this. Many significant personalities in the gaming industry, such as Joe Miller, Naughty Dog Central, and Kevin Choteau, have stepped forward to promote Rockstar Games and explain to fans how early build video of all the games vary from the actual game. They all tweeted showcasing early build videos of many different games.
The image above shows a tweet by Joe Miller, a well-known figure in the gaming industry. He compared the early construction of Marvel's Spider-Man to the final game's quality. We can all tell the difference between the two.
GTA 6 Leak Details And Gameplay Footage
The first anybody heard about the GTA 6 leaks was on a platform called GTAForums. 90 videos related to the game leaks were published by a user called "teapotuberhacker". The videos were test builds of the upcoming game GTA 6. Various screenshots and snippets from these leaked videos have gone viral on popular platforms such as YouTube and Twitter.
They align with details from another recent GTA 6 leak and an earlier one, both of which indicated the upcoming open-world game will have two lead characters, male and female, and will take place around Miami's Vice City.
According to the previous GTA 6 leak, the game has been in production since 2014 under the codename "Project Americas." These files, which contain the term "Americas" in their titles and indicate a version operating on a PlayStation 4 dev kit, might be many years old.
According to a person familiar with GTA 6's production, the majority of the films would have been attached to problem reports from QA testers. The perpetrator of this GTA 6 data heist has also claimed responsibility for hacking Uber.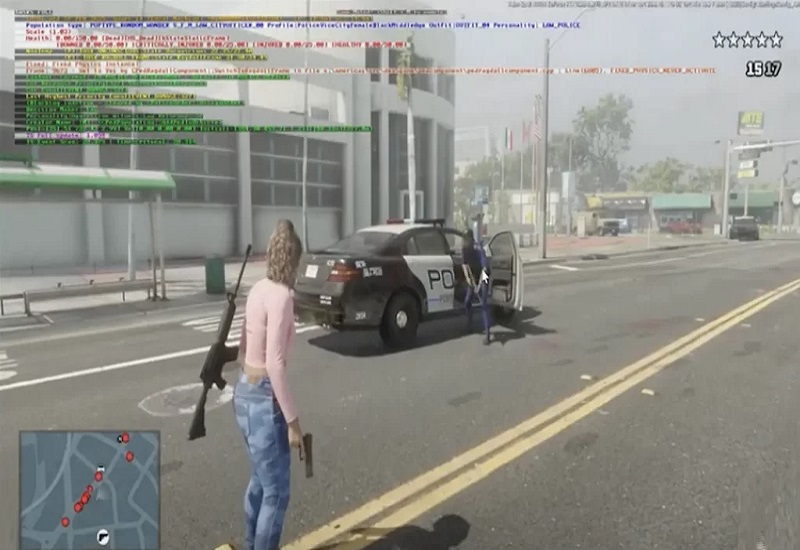 As you can see in the image above, the lead playable character is a female, and the game still looks in its early development stages. Although leaks like this might provide hesitant gamers with an early glimpse of what the game will be like, they aren't very beneficial to anybody.
All of these leaks do not offer an accurate representation of what the game will look like, which leads to gamers being dissatisfied with what they see in the leaked footage since it does not meet their expectations.
These kinds of leaks are incredibly frustrating for the games development team. It takes a long time to develop a game like GTA 6, and the idea is for consumers only to see the complete product, not some half-baked game that no one wants.
The Teenage Hacker Who Was Behind GTA 6 Leak: Arrested?
Recently the Twitter account of the City of London Police in the United Kingdom released a tweet talking about the arrest of an a17-year-old teenager on suspicion of hacking. This information was also confirmed by BBC and journalist Matthew Keys, who stated that this is the individual who leaked Grand Theft Auto 6 after hacking Rockstar Games (and possibly hacked Uber as well).
This teenage hacker, known as Teapotuberhacker, broke Rockstar's firewalls and leaked Grand Theft Auto 6 in-development footage. That footage rapidly went viral, and Rockstar and its parent company Take-Two have since removed it off the internet.
Matthew Keys also alleges that this arrest was conducted in collaboration with the FBI, who we already know was looking into the breach. More specific announcements from the agencies involved are likely to be announced shortly. At the moment, the hacker is being held by authorities.
On Monday, Rockstar Games issued a statement on the incident, stating that it does not anticipate "any disruption to its live gaming services or any long-term influence on the development of their ongoing projects."