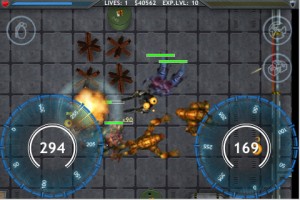 Team Alpha is a shoot-em-up, action game where, according to Sad Cat Software, your task "is to eradicate all mutants in a government lab where a secret biological experiment has gone awry." The app offers nearly 200 rooms of mutant-shooting mania with big guns. Good times.
You'll get a top-down view as you navigate from room to room. The graphics are crisp, with your typical monsters and mutants color scheme.
Runnin' and gunnin' isn't usually my thing, so I was concerned that I would have a tough time testing Team Alpha. To my surprise, the dual-dial controls were really intuitive. The left dial moves the commando and the right dial controls where he shoots. It was sometimes odd to see his legs running forward while his torso faced backwards to shoot the bad guys, but overall the controls worked beautifully. The dials are smooth and responsive, leaving me to direct my focus where it belongs — on shooting mutants.
Team Alpha didn't have any lag as I worked my way back and forth through the rooms, mutants came flying across the screen without even a hiccup. There are 10 levels each with multiple rooms. You won't know what's in a room until you get there. You'll need to remember what you've done if you need to go back, which adds to the fun and complexity of the game. You can also tap the screen to view a map of your current level along with the rooms you've already completed.
From my playing, the rooms are pretty basic. They all contain mutants to kill or objects to blow up. Kill and destroy to earn cash. As you earn cash, you'll become eligible to purchase bigger and better weapons for even more killing and destroying. Are you sensing the theme yet?
Team Alpha has just about all the features of a top-tier game: automatic game saving, a local high score board and global leaderboard. There is no true interaction over WiFi which is quickly becoming the norm for more advanced games. For me, this isn't a big deal. But Open Feint integration would be a nice touch for gamers that look for a more layered gaming experience.
Team Alpha is a solid, video game for the iPhone and iPod touch. The features are strong, the controls are easy to use and there's very little learning curve. There's no denying that Team Alpha is similar to any number of strategic shooter games. But honestly, can you ever really kill too many mutants?
Wondering if Team Alpha is the app for you? Watch the video demo below.