Looking around for the Best Alternatives to ThopTV in 2023? Apps like Thop TV allow you to watch your favorite TV shows, Bollywood and Hollywood movies, web series, and dramas in one place for free.
It is natural to look for Thop TV alternatives when its frequent crashes and bugs drive you crazy and its never-ending ads that worsen the experience. Not to mention the unnecessary permissions it asks for and the lack of security with the constant risks of privacy and data leak.
To help you, we've compiled a list of the 5 Best Alternatives to Thop TV in this blog, along with their pros and cons, to help you decide which is best for you. Before we proceed, let's take a closer look at Thop TV.
What is ThopTv App?
Thop tv is an online streaming platform on which you can watch the latest movies, TV shows, and much more. You can access content available on premium OTP platforms like Netflix and Prime Video. Thop Tv APK can be linked to an MX player to stream in HD along with access to 5000 radio stations and 3000 television channels.
The best part is that Thop Tv app is compatible with a range of devices, namely Android and Windows. Having discussed Thop TV's disadvantages previously, let us explore its alternatives.
5 Best Alternatives to ThopTV
We have selected the best 5 Alternatives to Thop Tv here that will provide you with all the best services that you want but you have to be careful while using them as most of these apps are not legal.
1) Hotstar Mod – No Restrictions On Your Entertainment
Disney + has already made its mark with 100 million paid customers across 59 countries. It provides you with all of the content that Disney film releases, including the latest films and TV shows. You can also watch live sports and cricket matches in multiple languages, and it is available on both Android and iOS devices.
Everyone loves to be entertained, but not everyone is willing to pay a premium subscription, which costs 399 rupees annually. Up until now, you had to pay for their premium model. Luckily, you can now access all that Disney + Hotstar has to offer without spending a single rupee, thanks to the release of the Hotstar Mod APK.
While other free streaming services are flooded with ads, Hotstar Mod gives you a pleasant ad-free experience. Your favorite films and TV series are available for download, so you can watch them when you're not online.
Since you don't need to log in to use this application, your personal information is fully anonymous and cannot be accessed by anyone else.
Pros
Ad free experience

Download available

Complete Privacy
Cons
Limited content compared to Netflix and Prime Video

Do not recommend based on past viewing history
Also Read: Is Pikashow App Safe & Legal For Android? Everything To Know!
2) Hd Streamz – A Good App Like ThopTv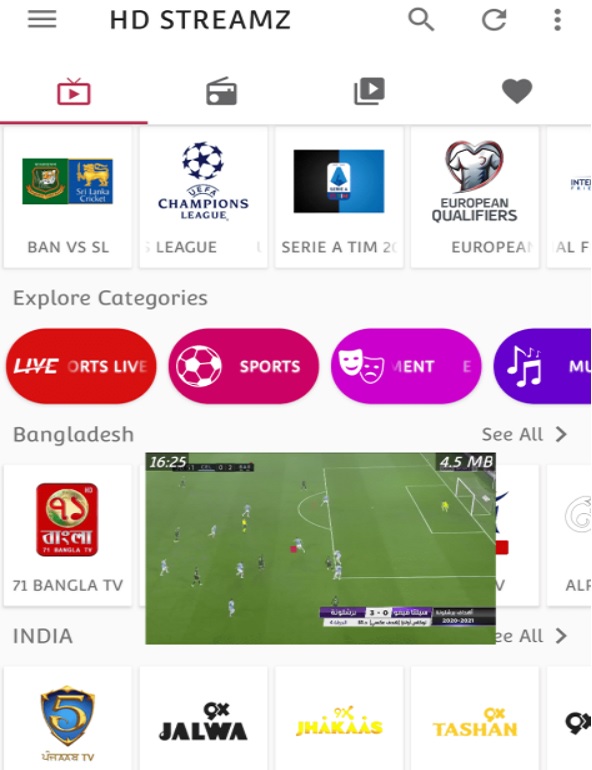 With access to over one thousand live channels, radio and movies, sports, and new channels, you can access Hd Streamz on any Android device completely free. The cherry on the cake is if there's any content that is not available on the Hd Streamz APK, you can request it, and the developers of Hd Streamz will upload it to the application. Their community-based support is always open for you without any cost.
The user interface makes the application super easy to use and supports a number of media players. You also get an inbuilt media player, and you can easily navigate 600 channels, a thousand live channels, movies, and TV shows.
Pros
Request movies and TV shows not available and will be added

Community-based support, completely free
Cons
Poor user interface

Requires a good internet connection

You might need to redownload
3) Tea Tv – Easy To Use App Like ThopTv
This great app like thop tv is incredibly fantastic for streaming free movies and TV shows on our computers. Through a clean and straightforward interface, you can access a constantly expanding collection of movies and television shows, including classics and blockbusters.
Any material can be downloaded for offline viewing. Simply click on any references and choose the URL you want to see to view the content. In a matter of seconds, it will begin playing in HD quality with the language and subtitles of your choice. In addition to movies and web series, anime is also available on TeaTv.
The main issue with TeaTv is that because it is an illegal program, you might face legal problems for violating copyrights. However, a solution is now available. Use a VPN to ensure the safety of your TeaTv and to offer total browsing privacy.
Pros
Browse and download movies and television shows to watch offline

You can watch movies, web series, and anime

Sort the results by year, date, or popularity

Integrated search tool with search ideas.
Cons
TeaTv is not legal

Using a VPN is recommended to safeguard from copyright violations
4) RedBox Apk – Box Full Of Entertainment ThopTv Alternative
RedBox APK offers a diverse range of content with channels from 19 countries and 1000+ live channels worldwide. There are broadly four categories, sports, science, and kids. And all of them have a variety of choices to choose from. The user interface is very simple and elegant, and you can search easily.
There are no subscription fees or registration requirements. Any content you wish to watch offline can be downloaded. You can access anything on any external media player, such as an Android Media player or MX player.
The content is provided through third-party platforms rather than by the application itself. This means any privacy problems are your responsibility. Simply use a VPN to overcome this issue and start watching all of your preferred TV episodes and movies for free.
Pros
Supports external media players

Cast live channels on your TV

Simple User Interface

Sign in not required
Cons
RebBox APK is ad supported

Few links might not be functional

The application is not legal
5) Kodi TV – More Than Just Streaming App Like ThopTv
Kodi TV is a media streaming platform like others on the list, but it's different. It is not limited to just TV shows or movies; you can also stream music, PVR, and video games. You can upload your local files, store your memories in photos and videos, and stream your favorite music as per your mood.
The background and color theme can be customized as per your choice. Need any help? A forum is available for you where you can find answers to any questions, guides, and tips.
Kodi TV is completely Open Source. You can download over a thousand add-ons absolutely free. This means that the content is not restricted to what has been made available by the platform, but the consumers can upload their own content and hold a copyright for their creation.
Pros
Accessible on any software

100% Open Source

Consumers can upload their own content
Cons
Kodi TV is not entirely legal
Conclusion
Thop TV is a famous and widely used software for streaming your favorite movies and TV shows, but its various downsides make it obvious to hunt for alternatives. This blog provides you with the five best alternatives for the Thop Tv app in 2023.
After giving each of them a quick introduction, we compared their features and drawbacks as well as the distinctive qualities that set them apart from Thop TV. The many characteristics may be quickly compared, allowing you to select the best platform.
Appcraver.com(c).